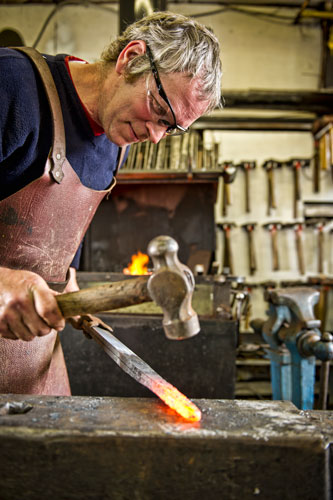 Nigel Barnett Artist Blacksmith
Nigel's career started at an early age, living in view of a steelworks he was fascinated by fire and iron. When the furnaces where opened, the sky lit up like the Northern Lights.
On leaving school Nigel trained to become a coded welder, working on many of the largest building projects of the early eighties. After mastering the welding of a vast range of materials, he looked for new challenges, using his love of art and metal forming he trained to become a blacksmith.
Fransham Forge specialises in the forging of all materials including bronze and stainless steel. Most commissions are individual pieces designed to the clients needs.
The workshop is led by Nigel, his workforce pride themselves in high quality workmanship.
Nigel is committed to bring out the best in creativity and craftsmanship from the blacksmiths and this can be seen in the pieces produced by the forge.